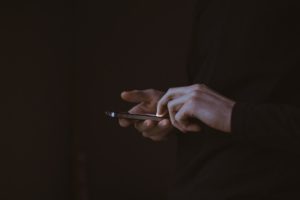 Purchasing sex via internet ads rarely turns out the way customers intend.  Often, the experiences have serious legal consequences. In the 2018 case of Mr. Hopper, he was convicted of sexual abuse of a minor.  His criminal case hinged on text messages found on the phone of an underage prostitute's pimp.
Hopper searched "Backpage.com" (which was subject to a U.S. Department of Justice seizure and a 93 criminal count indictment in April 2018) intending to purchase sex.  Users of Backpage posted their own ads for prostitution activity under the disguise of adult entertainment or "escorts" with false names and hourly rates.
Hopper was enticed by "Whisper", whose ad stated she was 19.  He later learned Whisper's true identity.  She was actually 16.  Her ad listed a phone number, which Hopper called and texted.  He initially thought the reply texts were from Whisper, but later realized these responsive texts were probably from her pimp.  He was right.  Whisper's pimp had listed his own telephone number in the Backpage ad and was reading and responding to Hopper's texts.
Police later arrested the pimp, and searched his cell phone, which lead them to Whisper.  She informed the police that Hopper paid her to have sex with him.  The police got Hopper's home address from the stored text message on the pimp's cell phone.  A jury convicted Mr. Hopper with "Commercial Sexual Abuse of a Minor," which in Washington State is a Class B Felony.  Hopper raised on appeal that his communications with Whisper by text were private communications illegally intercepted and should have been suppressed.
Hopper did have some legal precedent to make this argument.  In State v. Roden, the defendant's text messages to his drug dealer were private.  The drug dealer's cell phone number was a personal contact of Mr. Roden's.  In State v. Townsend, the defendant's email and real-time, person-to-person chat was held private when he told a supposed 13-year-old "not to tell anyone." An appellate court held that it was readily apparent from undisputed facts that Townsend's messages were for "her eyes only".
Hopper testified that, after receiving a certain text with a blunt tone, he was "fairly certain that he was talking to her pimp."  The Court held that Hopper might have a subjective expectation of privacy, but it was not a reasonable one.  A reasonable person would not expect that a Backpage.com advertisement would provide a "legitimate opportunity for a private opportunity with a 'known person'" (Whisper's face was pixelated in the ad).
The Court found Hopper's text messages with a pimp were not confidential private communications, and therefore were not illegally obtained when recorded and stored.
The Court clearly left open the door that certain recorded communications between an adult and minor could be private and protected from being evidence, even if setting up criminal activity.  However, texts with a pimp contacted through the internet did not fall under that protection.  Buyer beware.
If you have been charged with a criminal sex offense, you should speak with a lawyer immediately. 
Contact Jan P. Olson at 206-682-0565 or by visiting elmlaw.com.