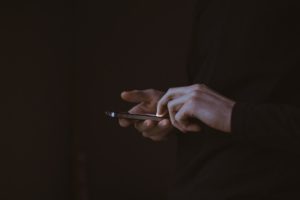 Undercover prostitution stings are nothing new. There is a very good chance the escort you hired through alternative print media, Craigslist, or the Internet is actually an undercover police officer. You are likely being lured down a path of personal destruction and criminal prosecution.
From TV and movies, we've learned that a john gets pinched after money for sex has been agreed to or money for sex has been exchanged. Commonsense would say that's the point at which a crime has been committed. However, a new concern comes from a report I received that is particularly "big brother" in nature. One in which the police busted an alleged john without any offer and acceptance of sex.
The report describes how a person interested in an escort started texting back and forth with someone found on the Internet. There was no discussion of sex for money or what money would buy. There was no agreement made between the alleged john and the "escort". The individual lost interest and discontinued the text dialog.
Later, this person received a text from the local police. The police stated they were aware of his communications with the "escort", and that he would soon be contacted by authorities.
This is weird. It is hard to believe this text was in fact from the police department. The text contained an attachment with the police logo. However, this could be easily downloaded from public domains.
So what kind of tricks are the police up to? The police often legally use the ruse of being an escort to walk an interested person down the road to "offer and acceptance" (O & A) of a sex act. This means that sex for hire has been discussed and money agreed upon or exchanged. It is not part of police strategy to disclose their identity when someone stops communicating prior to an O & A. The police have been known to renew undercover contact to "seal the deal" if it appears the individual was just about ready to make a transaction. However, if the person doesn't take the bait, if there has been no O & A, then the police have no reason to disclose their identity.
Have the tactics of the police department changed? Are they pursuing criminal charges against individuals who have only communicated interest in an escort but have not made or accepted an offer of sex for pay? That remains to be seen. Regardless, this report illustrates the extreme risk involved with someone looking for escorts, particularly via text communications.
If you have been arrested or are under investigation for a sex crime, contact Jan P. Olson at Ellis, Li & McKinstry.